Around 1982 Gordon Bradt licensed Arrow Industries to build and distribute a plastic version of his Six Man Clock design, and to use his simulated signature on the clock and on the packaging.
<![if !vml]>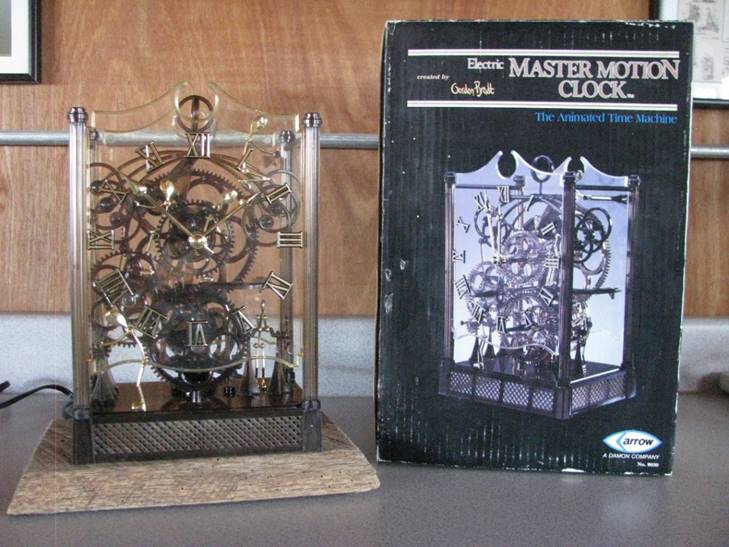 <![endif]>
Arrow Industries called their clock "Electric Master Motion Clock" and subtitled it "The Animated Time Machine."  The box says it is created by Gordon Bradt and distributed by Arrow Industries, a Damon Company, Penrose, Colorado.  It is marked No. 9030.
Arrow made their plastic clock with five men instead of six, and with different and more conventional gears and gear train than Bradt's design.  But it still reflects the original ideas that Gordon Bradt used in his brass clocks.  The little men even look like the men that Gordon Bradt drew for the patent application he filed for the Six Man Clock.
Although Kinetico Studios did not build or service the Arrow Clock, it is a great part of Kinetico and Bradt history.  And although we didn't see the plastic clocks for many years, they are now resurfacing and ending up in the collections of serious Kinetico Collectors.
For more about the Arrow Clock, watch a YouTube video of Gordon Bradt's Kinetic Sculptures, including this plastic clock.
https://www.youtube.com/watch?time_continue=3&v=1C4kbVhfC7U&feature=emb_logo
Kinetico Studios
Eureka Springs, Arkansas  USA
479-253-9114