Here at Kinetico Studios, we do complete restorations only on Kinetico built clocks, for a flat rate charge of $1500.  We cannot do spot repairs or sell parts.  During the restoration, all repairs, parts replacements, upgrades and adjustments are made that are needed, and motors are always replaced.  In the cleaning and refinishing process, we strip off the old lacquer, polish the clock to its original luster, and then we apply fresh lacquer.  This process restores the clock to original or better condition.
<![if !vml]>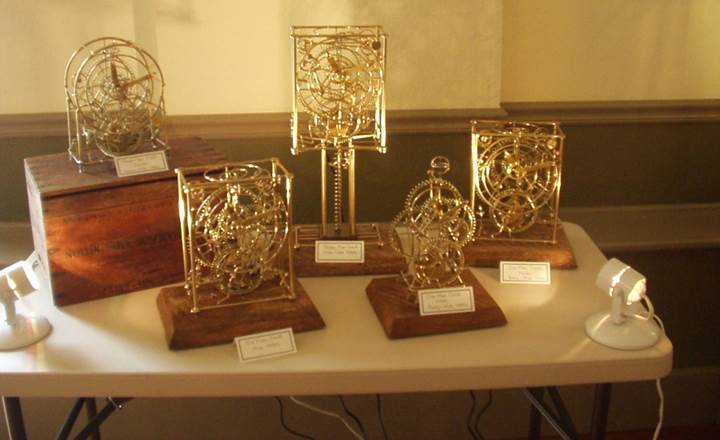 <![endif]>
As part of our restoration service, we often convert the cycles on clocks for people when they need to run their clock in other parts of the world.  Here in the US, we use 60 cycles, or hertz, while in Europe the electricity is 50 cycles, or hertz, and runs the clock at a slower speed.  In order for our US clocks to keep time on 50 cycles, we can replace one of the big brass handmade gears with one that has lesser teeth, causing the gear to go around faster and keep time on 50 cycles.
We only stock 110volt motors.  If your clock needs to run on 220volts and we need to replace it with a 110volt motor, a simple voltage converter purchased in your country will step the voltage down sufficiently. 
When we return your clock to you, you will receive our "Certificate of Authenticity."  This document will certify that your clock is an original Gordon Bradt design built here at Kinetico Studios.  It will also approximate the year or date we built your clock and record the date that we restored your clock to original condition.
The flat rate charge of $1500 includes shipping the clock back to you, within the United States.  This flat rate applies to any Kinetico Studios Desktop Clock style.
We can also give estimates for service on Grandfather Clocks.  Please contact Kinetico Studios with questions.
To send your clock for service:
1. Email Terri Bradt at Kinetico Studios to schedule your restoration.  Please wait for authorization from Terri to send your clock in.
2. Be sure to enclose your name, address, phone number and email address inside with the clock.
3. Kinetico Studios requires payment in advance for a restoration.  Please enclose a check for $1500 made out to Kinetico Studios, inside with the clock. 
4. Package the clock in a sturdy box with a few layers of bubble wrap.
5. Ship the clock by FedEx only. WHEN YOU HAVE SHIPPED THE CLOCK, LET US KNOW THE TRACKING NUMBER !!!!
6. We will email you when we receive your clock.  Turnaround time depends on our work load and on each individual clock's needs, typically 8 to 12 weeks after your clock arrives here.  Your clock will be returned to you by FedEx Express.
Ship your clock by FedEx to:
Kinetico Studios
526 Kinetico Road
Eureka Springs,

ARkansas

72631
USA
Questions? Email Terri Bradt at